StrategyBOOST founder and author Shirley Kurnoff, PhD, poured her passion for next-generation professional women into her latest book, Women Make It Work: What Generation X & Y working women are saying about juggling it all, and technology as the Great Liberator. Compiling feedback from over 200 online survey responses, over 40 focus group attendees at Stanford Graduate School of Business and UCLA Anderson School of Management and over 50 interviews with working women throughout the Bay Area and Australia, Shirley created a far-reaching book to empower women globally. Women Make it Work shows how these working women manage to juggle their responsibilities, set technology boundaries, work anywhere/anytime they choose, incorporate time-saving devices and apps and employ flex-time to create very full—and very rewarding—lives.
Women Make It Work is available in paperback; for iPad®, iPhone® or iPod® Touch by downloading a FREE Apple app; and for your laptop or desktop with a Kindle App.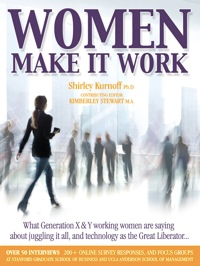 Available NOW in eBook from:
Amazon ($9.99) Amazon (paperback) ($18) 
Amazon.co.uk (£8.04)
Apple iBookstore ($9.99)
USA, Canada, UK, Australia, EU countries.
Barnes & Noble ($9.99)
Amazon.fr (EU 9,20) Amazon.de (EU 9,20)
Excerpt from Women Make It Work
Generation X & Y – Who Are They?

Which of the following means the most to you? MTV premiers. First Apple Macintosh released. Oprah Winfrey Show airs. Fall of Berlin Wall. First Microsoft Office released. First cloned sheep, Dolly, born. The Dot.com Bubble. Google. Y2K scare. 9/11. The iPod launches. Facebook. Taylor Swift's hit single. Hulu. Michael Jackson dies. Steve Jobs is no longer.


  Download this page FREE